---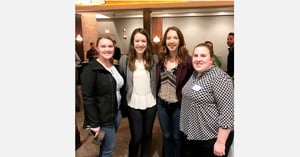 Buying a home for the first time can be both very exciting and stressful.
Staff Accountants Hannah Baumer, Korin Martin, Corey Eshelman, Rebecca Shirk, and Amanda Kilroy attended the Lancaster Young Professionals (LYP)
Home Ownership Workshop on Tuesday, April 10, 2018. The workshop featured industry experts who shared tips and tricks for buying a home for the first time. Below are some of the key takeaways from the event.
The "need 20% down to buy a house" is not true anymore. You can buy a house with a smaller percentage down payment.
Interest rates are low right now but are currently rising, so if you are thinking about buying a house now may the best time.
It is a "seller's market" right now meaning the demand for homes

exceed

s the available supply.

As a buyer, it is tough right now because houses are selling very quickly. Since more people are looking for homes than selling, there are typically several offers made and the sale price may be higher than the listing price.
Tips & Tricks for Selecting a Lender & Realtor
When choosing a lender and realtor, you should look for professionals who are available after office hours because in this market it is important to have someone who can pull together an offer, answer questions, and help in any other way later at night.
Before signing any contract with an agent, see a few houses with them to ensure they are a good fit for you and your interests.
Tips & Tricks for Buying a Home
Always get an inspection.
Writing a personal letter to the seller can really make a difference and can make your offer stronger regardless of the amount you are offering.
While it may be tempting to just look at the whole price, you should look more at the monthly payment because that is what will be a part of your budget and that is more realistically what you can afford.
During the period from when your offer has been accepted until settlement, you should avoid switching jobs, retiring, moving to part-time, buying anything on credit (for example a car), having larger gifts/deposits going into your bank account. Not to say that you can't do these things, but you should contact your realtor and your lender beforehand so they can help you and let you know how it could affect things.
For more information on LYP, go to https://www.lyp.org/.