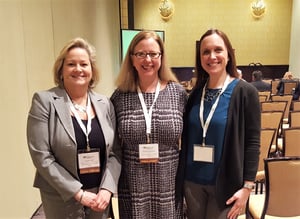 Krista Showers, Megan Senkowski, and Linda Bell attended Benecon's Health Benefits Seminar on April 5-6, 2018 at the Lancaster Marriott. Trout, Ebersole & Groff, LLP was a bronze sponsor for the event which was presented by Benecon and ConnectCare3. The event included presentations on the following topics:
The State of Healthcare Today
Retiree Healthcare
New Trends in Healthcare Containment
Hospital Mergers
A Population Health Approach to Wellness
Still in the Weeds: Medical Marijuana
Impact on Employee Benefits from the Employer Perspective
Cost-Saving Ideas for Your Health Benefit Plan
The Unrelenting Advocate in Each of US
The Future of Healthcare Benefits for Your Employees
Additionally, Amy Van Dyken, six-time U.S. Olympic Gold Medal Swimmer, detailed her survivor story and Elizabeth Norman, Ph.D., author of We Band of Angels, gave an inspirational speech on the nurses that were captured during WWII.