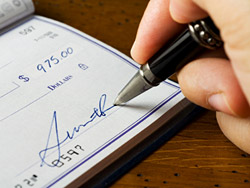 Do you know when your manufacturing operation begins? Do you know when it ends?Do you know when wrapping equipment and supplies are subject to tax? Do you know when they are exempt? Are the utility bills prorated to reflect the exempt portion used in manufacturing? Are you prorating the bills for light bulbs in the same fashion? Do you know that foundations used to support equipment and machinery used directly in manufacturing is exempt from tax? Do you know how to rotate or identify specific machinery and equipment to meet the "used predominately in manufacturing test" for the best sales tax results? Do you know that pollution control devices are exempt from tax, but safety and fire prevention equipment is subject to tax? Do you know that property used in research of a new or improved product, or a new or improved method of producing a product, is exempt from tax? Do you know that cleaning supplies which are used for general plant and equipment cleaning are subject to tax, but cleaning chemicals and disinfectants used to sterilize or disinfect exempt equipment used in the food and beverage industries that come into contact with the product are exempt from tax?
Other Exempt Industries
Processing, dairying, farming, public utilities, mining, printing, and photographers are other exempt industries that can make purchases exempt from tax if used directly in their industry.
Construction Contractor
The term "building machinery and equipment" is relatively new and allows construction contractors to purchase free from sales tax items falling within this category if purchased as a part of a construction contract with a purely public charity or a governmental entity (need to have an exemption certificate from the exempt entity). "Building machinery and equipment" includes air conditioning, electrical, plumbing, communication, alarms, control systems, medical systems, laboratory systems, cathodic protection systems, furniture, cabinetry and kitchen equipment. It includes the fixtures outside of the walls, but does not include duct work, wire, conduit, receptacles, junction boxes, pipes, fittings, pipe supports, and hangers. If the contractor paid the sales tax and has a valid assignment of rights from the exempt entity on items of "building machinery and equipment", the contractor can petition the state for a refund.
Purely Public Charities or Governmental Entities
Is the purely public charity or governmental entity making purchases exempt from tax? Does the exempt entity have a sales tax exemption number, prefixed by the digits 75? Is the exempt entity being charged sales tax on phone and utility bills? Is there an opportunity to file for a refund for items that should have been exempt from tax? Please see above for opportunities to save costs in a construction contract.
Reverse Audit
Have Trout CPA do a "reverse audit" for your company. What is a reverse audit? We will look for and advise of tax deficiencies without the threat of having to go back three years and having to pay penalty and interest on top of the sales tax deficiencies. We will advise of areas where sales or use tax should have been paid, and the problems found can be fixed going forward.
Use Tax
Use tax is due if personal property that should be subject to sales tax does not have sales tax on the invoice: most common is purchases from other states or purchases over the internet.
Accrual Sales Tax Method
Sales tax is due to the state based on the date of sale and not based on the date of payment. If an accounts receivable ends up being written-off for federal income tax purposes, a request for refund can be made to the state to recover the sales tax paid.
Help Supply Services
Help supply services, employment agency services, and building maintenance and cleaning are all subject to PA sales tax. If, however, the cost of the employee (including benefits and payroll taxes) is separately stated on the invoice, then PA sales tax is due only on the amount charged in excess of the employee cost. A construction contractor that "loans" a work crew to another contractor for a fee, falls under help supply services and PA sales tax does apply. Separately stated employee costs will lower the amount subject to PA sales tax.
Car Dealers
Vehicles entered upon the dealer's demonstrator account with the manufacturer are presumed actually to be used by the dealer for demonstration purposes. Therefore, use tax will be assessed upon the fair rental value of such vehicles. Where the dealer claims that such use has not occurred, the dealer has the burden of proof to rebut the assessment. The dealer will fail to rebut the presumption if the odometer reading on any vehicle so designated exceeds 8,000 miles. If a fair rental value is unknown, the state will recognize 3% of the purchase price as a monthly fair rental value.
Other Services
Other services include representation during sales tax audits, filing of appeals with the state including refund petitions, sales tax research, assist with application to request exempt status, and filing of request for an initial sales tax license.