Cyber Insurance Application Assistance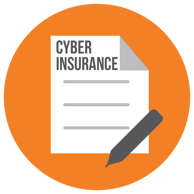 Cyber Liability Insurance is a key protective measure in today's risk environment. However, completing the application thoroughly may be a challenge for many businesses because many of the questions are IT-centric and may not be easily understood. In addition, the number of "NO" answers may affect the rates that you pay for coverage.
We can assist with the application process, and in many cases, help you change a "NO" to a "YES" for many questions by providing documentation and response plans from our library of custom written incident response and business continuity plans.
Cyber Liability Insurance is an important supplement to your risk mitigation strategies, but it is NOT a substitute for well-designed IT controls and response plans.
Please contact our Cybersecurity Specialists for a free one hour consultation about your specific situation and risks.