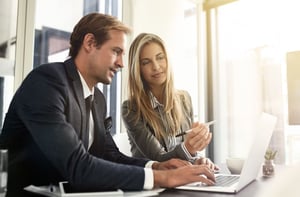 Whether you're looking to improve your skill set in QuickBooks, or working through a bank reconciliation that just won't reconcile, or figuring out why your accounts receivable aging doesn't match your accounts receivable detail, Trout, Ebersole & Groff, LLP has a team of Certified QuickBooks ProAdvisors ready to assist you.
Our reputation for service and quality extends to the experts in our QuickBooks department. With over one hundred years of combined experience, we specialize in all levels of training and support, including developing and implementing solutions to meet your needs. We support all versions and editions of the software and service a wide array of industries.
Proper new file setup and timely support will benefit your business!
Training Options
Would you like to shorten the learning curve for yourself or a new employee? Obtain a thorough understanding of the software and get answers to your specific questions? Maximize the capabilities of QuickBooks and improve your skills and efficiency?
One-on-One Training is on-demand customized training for your staff on your company file, on your computer. It is tailored to your company's needs and may be scheduled at your convenience.
Seminars & Classes are offered at various times during the year, and taught by the experts in our QuickBooks department.
The Digital Workshop's recurring series of hands-on classes are geared toward bookkeepers, accountants, and small business owners who are interested in learning the basics and beyond. The series includes Introduction to QuickBooks, Accounts Payable and Banking, and Accounts Receivable. You may choose to attend one or all. Please visit The Digital Workshop website for class information and availability.

Trout, Ebersole & Groff, LLP, in partnership with Associated Builders and Contractors, Inc. (ABC), also offers an annual series of lecture-type seminars specifically designed to address the unique accounting concerns of the construction industry. This series includes Accounts Receivable, Accounts Payable, Job Costing, and Budgeting & Reporting.

For additional information, please click the button below to start a conversation with us.
Support Resources