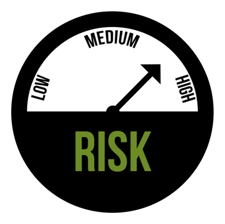 A risk assessment is used to identify threats to your organization and vulnerabilities present in your systems and procedures.
The security of your information depends on three things:
Confidentiality – preventing unauthorized disclosures
Integrity – preventing unauthorized modification of systems and information
Availability – preventing disruption of services and productivity
We use the National Institute of Standards and Technology (NIST) Risk Assessment Framework as the basis for identifying and rating risks to your data. In addition, we offer these services to further evaluate your infrastructure:
Penetration testing
Vulnerability scanning
Firewall assessment
Wireless network assessment
Our risk assessment methodology will allow you to:
Classify / prioritize data and assets – considers all sources of data repositories
Evaluate your threats and vulnerabilities
Create a gap report and focus on key items
Assist with remediation and target your resources to where risk is greatest and link identified risks with procedures to be implemented.
Using our risk assessment methodology will allow you to improve your cybersecurity and to achieve results quickly.