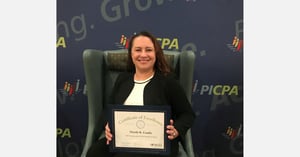 Trout, Ebersole & Groff, LLP Partner, Nicole Cradic, CPA, was one of 39 certified public accountants in Pennsylvania who received the 2019 Young Leader: PICPA Member to Watch award. The award recognizes PICPA members under the age of 40 who demonstrate an extraordinary commitment to the accounting profession through PICPA or community service.
Nicole joined Trout, Ebersole & Groff, LLP in 2006 after graduating from Old Dominion University (magna cum laude) with a Bachelor of Science degree in Business Administration with a focus in Accounting and Finance.
Nicole leads the firm's Quality Control Committee which is responsible for ensuring that the firm's attest engagements are of the highest quality. As an Audit & Attest Partner, she provides accounting and auditing services to clients in a variety of industries including governmental, not-for-profit, and for-profit entities as well as employee benefit plans.
We wish to congratulate Nicole on this achievement.