Trout, Ebersole & Groff, LLP Partner, Nicole Cradic, CPA, was one of 40 professionals who were honored by Central Penn Business Journal with their Forty Under 40 award. This annual award recognizes up-and-coming leaders in Central Pennsylvania. Earlier this year, Nicole was also honored by PICPA with their Young Leader Award.
Nicole joined Trout, Ebersole & Groff, LLP in 2006 after graduating from Old Dominion University (magna cum laude) with a Bachelor of Science degree in Business Administration with a focus in Accounting and Finance.
Nicole leads the firm's Quality Control Committee which is responsible for ensuring that the firm's attest engagements are of the highest quality. As an Audit & Attest Partner, she provides accounting and auditing services to clients in a variety of industries including governmental, not-for-profit, and for-profit entities as well as employee benefit plans.
We wish to congratulate Nicole on this achievement.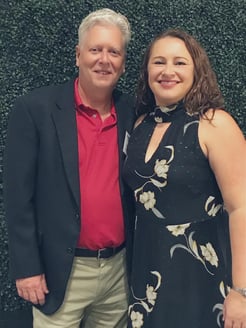 Trout, Ebersole & Groff's Former Managing Partner, Don Johnson, with Nicole Cradic, CPA, Partner, at the CPBJ Forty Under 40 Award Dinner.