Trout, Ebersole & Groff, LLP's (TEG) Outsourced Accounting Manager, Jane Cornett, MBA, presented at the 2019 Pennsylvania Optometric Association (POA) Spring Congress. The event was held on May 17-18, 2019 at the Kalahari Resorts & Convention Center in Pocono Manor, PA. The annual conference provides continuing education for ophthalmologists and optometrists. Some of the topics included:
Innovations in Eye Care

OSD

Ocular Disease

New Technologies

Glaucoma

Treating Pediatric Patients
On Saturday, May 18, 2019, Jane spoke to a room of Optometry students on Understanding Financial Statements. During her session, she explained the importance of understanding financial statements and showed how to read an income statement, balance sheet, and statement of cash flow.
TEG was also an exhibitor at the event. Alongside Jane, Outsourced Accountant, Barb Sanborn, and Marketing Specialist, Erin McGaw, were present to discuss how TEG is able to assist eye doctors with running their practices more efficiently and strategically through Outsourced Accounting.
The POA is the professional organization for Doctors of Optometry in Pennsylvania. There are currently about 1,200 POA members. For more information on the POA or Spring Congress event, visit https://pennsylvania.aoa.org/.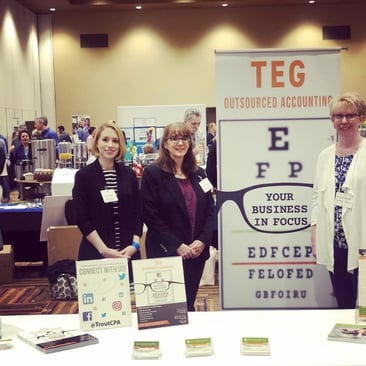 From left, Erin McGaw, Barb Sanborn, and Jane Cornett, MBA
Interested in learning more about Outsourced Accounting? Let's start a conversation!