Trout, Ebersole & Groff, LLP is pleased to announce the acquisition of DATA WORKINGS, LLC. DATA WORKINGS, LLC was co-founded by Managing Partners Robert Koechig, Jr. and Aaron Beer in 2011.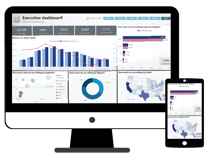 "We are pleased to have the opportunity for Robert Koechig to join our team," said Todd Harington, CPA, Managing Partner. As a proven business leader with an expertise in data analytics and reporting, Robert brings expertise to the firm's clients through his knowledge of data and business intelligence. Robert works with clients to connect business intelligence technologies with business strategies; resulting in powerful, real-time visual reporting.
Koechig joins Trout, Ebersole & Groff as President of TEG IQ, a division of Trout, Ebersole & Groff, LLP. Prior to joining the firm, he spent 7 years as President of DATA WORKINGS, LLC where he provided enterprise-level data intelligence to organizations of all sizes.
Koechig is a graduate of Clearwater Christian College with a Bachelor of Science degree in Information Systems Management.
For more information on TEG's new service offering, Data Analytics & Business Intelligence, click the button below or email Robert at rkoechig@troutcpa.com.