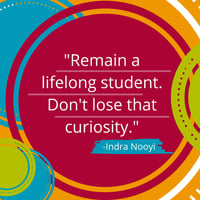 Trout, Ebersole & Groff, LLP is pleased to announce that the firm will be a Patron sponsor for the 147th Lancaster Chamber Annual Dinner on Thursday, May 30, 2019. The keynote speaker for this year's event is Indra Nooyi. Indra is Chairman of PepsiCo's Board of Directors. She has served in this role since 2007.
Previously, she served as Chief Executive Officer from 2006 to October 2, 2018. As CEO, Mrs. Nooyi was the chief architect of Performance with Purpose, PepsiCo's pledge to do what's right for the business by being responsive to the needs of the world around us. As part of Performance with Purpose, PepsiCo is focusing on delivering sustained growth by making more nutritious products, limiting our environmental footprint and protecting the planet, and empowering our associates and people in the communities we serve. She directed the company's global strategy for more than a decade and led its restructuring, including the divestiture of its restaurants into the successful YUM! Brands, Inc. She also led the acquisition of Tropicana and the merger with Quaker Oats that brought the vital Quaker and Gatorade businesses to PepsiCo, the merger with PepsiCo's anchor bottlers, and the acquisition of Wimm-Bill-Dann, the largest international acquisition in PepsiCo's history.
For more information and to sign up for the Lancaster Chamber's 147th Annual Dinner, visit https://info.lancasterchamber.com/annual_dinner/.

The Lancaster Chamber of Commerce & Industry is a dynamic membership organization rich in history and comprised of nearly 2,400 community-minded businesses totaling to more than 116,000 employees collectively working to make Lancaster County a great place to live, work, and conduct business. The Chamber boasts an impressive menu of services aimed at helping business leaders and professionals connect, learn, and grow while leveraging the collective power of this group to weigh in on legislative and community issues that affect Lancaster County's business climate and quality of life.