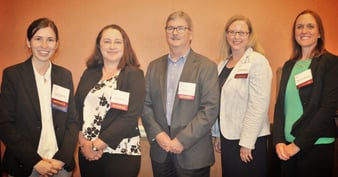 From left, Emily McGraw, Staff Accountant, Nicole Cradic, CPA and Partner, Michael Wolfe, CPA/ABV, CVA and Partner, Krista Showers, CPA and Partner, and Megan Senkowski, CPA and Manager.

TEG professionals attended The ESOP Association's Multi-State Conference in Hershey, PA on September 11-13, 2018. This year's conference provided presentations on topics relevant to

ESOPs

including valuations, leadership, company culture, cybersecurity, succession planning, and tax reform.

Staff Accountant, Emily McGraw, presented Cybersecurity and ESOPs: A Guide to Defense. During her session, she informed attendees about common cyber threats, vulnerabilities, and how to mitigate risks. Emily graduated from Robert Morris University in December 2017 with a BSBA in Accounting and an MS in Cyber Security and Information Assurance.