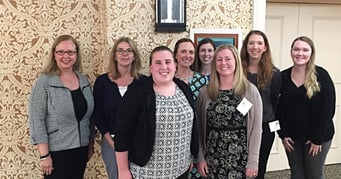 Amanda Kilroy, Senior II, Carolyn Gerhart, CPA and Manager, Emily McGraw, Staff Accountant, Hannah Baumer, Staff Accountant, Korin Martin, Staff Accountant, Krista Showers, CPA and Partner, Leah Leaman, CPA and Staff Accountant, and Megan Senkowski, CPA and Manager attended the Pennsylvania Institute of Certified Public Accountants (PICPA) Government Accounting Conference in Hershey, PA on Monday, July 9th and Tuesday, July 10th.

This year's conference provided presentations on new topics including Accounting Issues Facing Small Governments, Annual Report Filing for Municipal Authorities, The Political Landscape: How It Affects Your Auditing Practice, The Business of Marijuana, Adding Value to Local Governments, and The Case for Intelligent Automation.

The PICPA preserves the legacy and propels the integrity of the CPA profession. Belonging to the PICPA provides members with the professional and personal support to refine skills, expand knowledge, connect with like-minded people, and achieve bigger and better things at every stage of a member's professional life.