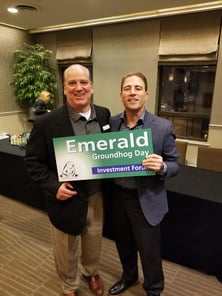 Rich Juliano COO at Emerald Asset Management (left) and Brian Wassell, CPA, Partner at TEG (right)
Trout, Ebersole & Groff, LLP has had the pleasure of being one of the Groundhog Day Investment Forum sponsors for the past four years. Brian Wassell, CPA, Partner represented Trout, Ebersole & Groff at this year's forum which took place in Philadelphia, Pennsylvania on February 1, 2018.
Each year, Emerald Asset Management and the event's sponsors announce the E-3 Award winners.
"This unique award was created to recognize leaders who epitomize the qualities that are inherent in today's most successful business leaders – qualities that reflect an entrepreneurial spirit and a commitment to excellence," Joseph Besecker, President of Emerald Asset Management.
The 2018 E-3 Award Winners are:
Public Company Executive Award: Alan Masarek, Chief Executive Officer, Vonage Holdings Corp
Science and Technology Executive Award: Jason N. Gorevic, Chief Executive Officer, Teladoc Inc.
Green Company Award: James S. "Chip" Mahan III, Chairman & CEO, Live Oak Bancshares, Inc.

For more information on the 2018 Groundhog Day Investment Forum, visit http://www.digitaljournal.com/pr/3648050#ixzz56R41FnnL.